Construction of the Minnesota Multipurpose Stadium, Reaches Milestone One Month Ahead of Schedule
Previous page
by Ricardo Flores, Principal, Los Angeles Branch Manager, and Latin America Group Leader
The Hubert H. Humphrey Metrodome, home of the NFL's Minnesota Vikings since 1982, has been demolished, paving the way for construction of the team's new home, the New Minnesota Multi-Purpose Stadium. Demolition of the Metrodome, was completed in mid-April 2014, one month ahead of the scheduled completion date of May 15, 2014.
Construction activities broke ground in early December 2013, following the completion of the 2013 NFL season, and completion of the new stadium is slated for June 2016, in time for the start of the 2016 football season. For the next 2 years, the Minnesota Vikings will use the University of Minnesota's TFC Stadium to host home games. This stadium is presently being upgraded and will be ready in time for the 2014 season.
The new stadium, being constructed on the same site as the former Metrodome, will have a seating capacity of 65,400 (expandable to 72,000 for a Super Bowl). The venue will feature 116 Suites, 8,000 Club seats, 6 Club lounges, the Vikings Hall of Legends, 2 team retail stores, 1 restaurant, 12,560 square feet of video boards, 800 high definition monitors, WiFi, and 430 general concession points of sale throughout the stadium.
The new stadium exhibits a bold design featuring a soaring prow, zinc-clad exterior panels, 95 foot tall glass operable doors, and what has been described as the world's largest transparent roof. Half of the stadium's roof will be made of transparent ethylene tetrafluoroethylene, or ETFE – a lightweight polymer best known for its use in the "Water Cube" aquatics center built for the 2008 Summer Olympics in Beijing.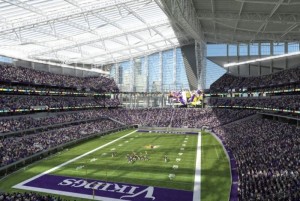 The pivoted glass doors at the stadiums western end will be accessed from a 3-acre plaza for game day, non-game day and seasonal public gatherings, as well as being the point of connection to the downtown corridor and to a future entertainment center, north of the project site.
The stadium's doors will allow fans to experience views of Minneapolis' downtown, and the transparent roof will allow spectators to feel that they are outdoors, while being in a controlled environment, protected from the elements.
The multi-purpose stadium, the home field of the Minnesota Vikings, has been awarded the NFL's 2018 SuperBowl LII. Additionally, the stadium will be able to host a multitude of sporting and entertainment events such as MLS Soccer, NCAA Basketball and Baseball, Motocross races, marching band competitions, concerts and conventions.
The stadium was designed by Dallas-based HKS Architects, and Minneapolis-based Mortenson Construction is the Construction Manager.
Merritt & Harris, Inc.'s Principal and Los Angeles Branch Manager, Ricardo Flores, was the Project Manager who provided construction monitoring services for our client, Goldman Sachs.