Levi's Stadium has Playing Turf Installed
Previous page
by Ricardo Flores, Principal, Los Angeles Branch Manager, and Latin America
Group Leader
Construction of the new home for the San Francisco 49ers is reaching the final stages of construction, and the newly planted grass field is a clear indication that the opening date for the 2014 NFL season is approaching rapidly, with inaugural events such as the ribbon cutting ceremony occurring on July 17, 2014, and an MSL game between the San Jose Earthquakes and Seattle Sounders taking place on August 2, 2014.
Located in the Silicone Valley community of Santa Clara, the new 68,500 seat Levi's Stadium will feature a 27,000 square foot living roof, stadium-wide WiFi capability, mobile connectivity, IPTV, and colossal HD video boards measuring over 13,000 square feet. The seating count includes 9,000 club seats. The seating capacity will be expanded to 72,000 for Super Bowl L, which will take place on February 7, 2016.
The WiFi infrastructure will connect all spectators simultaneously to the network, and help drive the free Levi's Stadium application that will allow fans to:
Order food, beverages or merchandise, from any seat in the stadium
Watch high-definition replays from multiple camera angles, in slow motion or real time
Provide way-finding mechanism to find fastest way to reach seats, find friends, closest concession stand, and restrooms with the shortest wait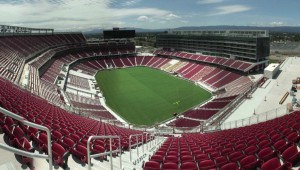 The new stadium will feature 165 luxury suites, open pedestrian plazas, commercial community space, a 49ers Team Store, a 49ers Hall of Fame, and 160,000 square feet of climate controlled Club and premium areas, including the private field-level East and West Legacy Clubs, which will be situated directly behind each team's bench, and will feature access to on-field patio areas. The patrons will be able to watch the 49ers and visiting team make their way from their locker rooms to the field.
The stadium was designed to hold a wide range of events including professional and college football, soccer, motocross, concerts, and civic events.
Nearby transit access including buses, VTA light rail, ACE trains, and Amtrak will drop fans off within walking distance to the stadium. The new stadium is located near several major highways and expressways and is in close proximity to 21,000 vehicular parking spaces located on and off site.
The stadium incorporates sustainable design concepts such as photovoltaic panels, a green roof, convenient transit access, bicycle parking, walking path access from the San Tomas Creek Trail, water-conserving plumbing fixtures, modern building control systems, and the use of recycled materials, and is on track to become the first NFL stadium to open with LEED Gold rating from the U.S. Green Building Council.
The project was designed by HNTB, a San Francisco-based architectural firm, and constructed by Turner Construction in joint venture with Silicone Valley's Devcon Construction Inc.
Merritt & Harris, Inc.'s Principal and Los Angeles Branch Manager, Ricardo Flores, was the Project Manager who provided construction monitoring services for our client, Goldman Sachs.