The Knights Welcome Their New Home
Previous page
by Jim Mako, P.E, LEED AP, Florida Branch Manager and Senior Associate
BB&T Ballpark, an uptown stadium in Charlotte, North Carolina, opened for games in April 2014. The Charlotte Knights, a Triple-A minor league affiliate of the Chicago White Sox in the International League, has now moved to its namesake city after 10 years in Knight Stadium in Fort Mills, South Carolina.
A major league ballpark, it contains 975 club seats, 22, luxury suites, and 2 clubs. There are 10,000 total seats. It is estimated that the annual draw for the first year will be 600,000 fans. Those in the Concourse seating enjoy views of the city skyline.
Construction started in September 2012 with the demolition of existing structures and the 3rd Street roadway that occupied the uptown area site comprised of 2 parcels. A parcel along 4th Street contains a site for a future hotel.
Excavations revealed interesting artifacts from the City's past including railroad lines, hotel monument signage, coal, and roadway bricks.
The stadium's 3-level main structure includes a below grade team area that leads out to the dugouts as well as the ground level suites. At grade level, the Concourse contains the Home Plate Club, concourse seating, concession stands, kitchen areas, and administrative offices. The 3rd level contains the suites and a private Club.
An outdoor bar area is located along the 1st base foul line. A restaurant area faces Mint Street looking out at the city skyline. Ancillary areas of the stadium include a concession building, a picnic area, and maintenance building.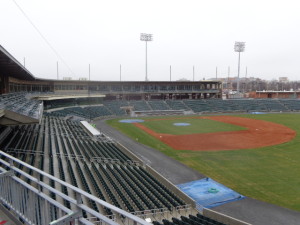 The field is natural grass with a hi-tech irrigation and water control system.
Odell Architects, located locally in Charlotte, indicated that their design will provide a view of the Charlotte city skyline that will appeal to people across the community. It also incorporates the surrounding city into the stadium aesthetics.
The General Contractor, a joint venture of Rogers Builders and Barton Malow, finished the project on time and within budget. Using local subcontractors, the project was well managed and provided a boost to the local economy.
A local retired City of Charlotte Engineer, Jim Schumacher, P.E., of Urban Projects, PLLC, led the project as the Owner's Representative and Construction Manager. Having insight into the processes in the City, his leadership guided the project through the municipal requirements, code compliance, and coordination with utility providers.
Merritt & Harris, Inc.'s South Florida Branch Manager, James L. Mako, P.E., was the Project Manager and provided construction monitoring services for the client, Bank of America Merrill Lynch.