TCR – Thanks for the Memories
Previous page
by Michael J. Dwyer, Principal and Head of Plan, Cost & Review Group
In many careers, it is not always common to meet and work with a great person. In my short career at Merritt & Harris, Inc. I have actually had the opportunity to work with 2 great men; Buzz Harris and Tom Richard. Both of these men were true leaders, mentors, and great friends.
Tom Richard is a true friend and was always a great leader. He took the reigns of Merritt & Harris at a time when the construction industry was in tough shape. Tom brought the firm together. He rebuilt the management of the firm, practically from scratch, and led us with professionalism, compassion, and pride.
Years ago, it was common for employees to start and end their careers with just one company. That does not happen very often anymore, but it is quite common here at Merritt & Harris. I believe that the longevity of many members of our firm is due to the family-oriented, caring, and recognition that Tom would always provide to each and every employee.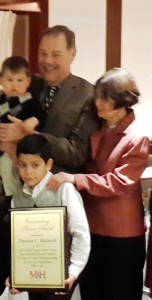 For myself, I know personally how caring Tom is and I am thankful. I had a medical emergency back in 2007 and, without hesitation, Tom flew down to Florida to be with me and my family through this time of need. Work was put on hold, while family needs were brought to the forefront. In my opinion, this is what makes a great leader. While we always work hard, strive to make profits, and look at the bottom line, when family calls, everything else should take a backseat.
Tom Richard would also take the time to train new, and not so new, employees. Tom's work ethic, knowledge, and expertise as a Construction Consultant have always been looked upon by so many as "that's how good I want to be." Tom's contributions to the industry, by being a panelist at so many forums, contributing author of the condition survey ASTM standards, and, well, his knowledge of stadium seating, are just a few of the many ways Tom improved our industry.
As an avid New York Giants fan, Tom is fully aware of how sometimes things can be very good and other times they can be really, really bad. Not being discouraged and persevering in unwavering support are certainly characteristics of Tom's both on and off the field.
As a friend, co-worker, and student, I thank Tom Richard for all that he has done for me, my family, and our firm. I wish him and his family many years of good health, good times, and I hope the Giants improve.